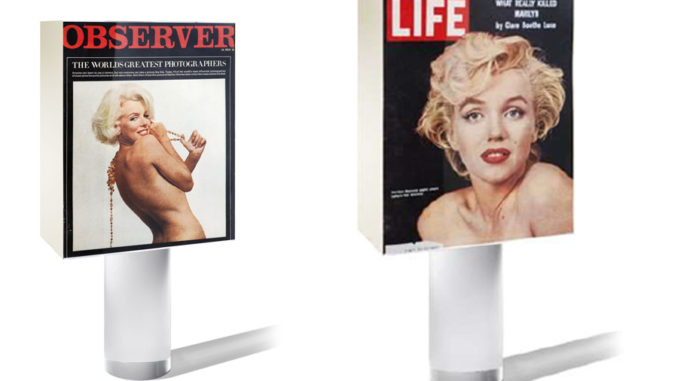 We'll soon be talking about Christmas again.
The ICON62 brand is proud to present a new lighting range devoted to an iconic figure who left her mark on the 20th century.
The range offers a series of magazine Front Pages combining the rarity of originals with design, adding up to a product that is at once unique, vintage and contemporary.
The lamps have been designed in champagne-tinted plexiglass, referencing the actress's favourite drink and her legendary blond hair.
Appealing to movie-goers, fashion and design lovers, and collectors, these lamps will make ideal Christmas gifts.
Full details are in the catalogue attached.: ICON62
The items you choose, along with high-res visuals, are available now.
www.icon62.com
Each lamp features an original magazine Front Page. No reproductions are used.
Designer: Eric Salone
eric@icon62.com
Communication officer: Fausto Papetti
fausto@faustopapetticommunication.com