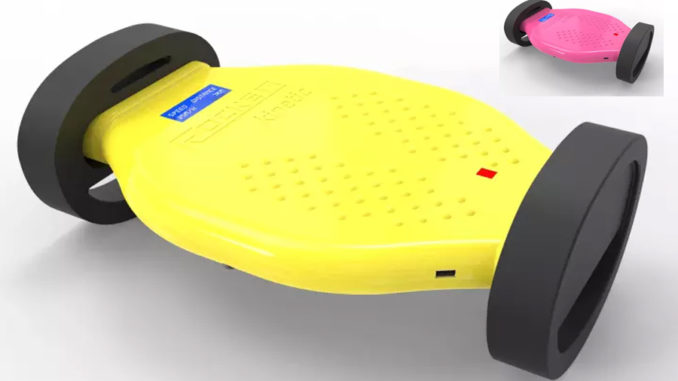 As health concerns rise around sedentary lifestyles and the consequences, technology minded developers have created an exciting, new portable gadget. The Rocker Kinetic is a revolutionary, dynamic footrest that makes subtle movements to keep legs working without causing distractions. It's the ideal device for commuters and office workers that want to embrace a healthier lifestyle.
Remaining in a seated position has been linked to numerous medical conditions, including deep vein thrombosis, back pain, and poor blood pressure. The beautifully designed Rocker Kinetic was created to provide a solution to the modern health challenges. All individuals need to do is comfortably place their feet on the footrest and rock it while the smart tech does the rest- calculating time, distance, calories burnt and building a health profile for the user. Powered by artificial intelligence, Rocker Kinetic facilitates simple, unconscious leg movements that improves posture, blood circulation, and general wellbeing. It seamlessly fits into busy, modern lifestyle, effortlessly being used in the office, when travelling, and at home.
Placid Ihuoma, Founder of Rocker Kinetic, said, "Many of today's jobs and recreational activities mean sitting for long periods of time. Even when we do quick bursts of energetic exercise, it's not enough to offset the stillness and sedentary lifestyles that have become common place. Rocker Kinetic makes it simple for you to keep your legs moving throughout the day, reducing risks and instantly boosting action that can have a positive effect on health and wellbeing.
"The portable design means that you can now embrace a healthier lifestyle, wherever you are, be that on the train travelling to work or relaxing at home with your favourite boxset."
The versatile Rocker Kinetic can be used to stimulate targeted muscles and joints too, making it the perfect addition to rehabilitation centres. The low impact gadget means it's suitable for a range of needs and goals that patients may have. Built into the smart footrest, users can also get involved in games, combining exercising and fun that guarantee to keep users entertained.
Rocker Kinetic has launched on crowdfunding platform Indiegogo, giving eager gadget lovers a chance to snap up one of the dynamic footrests at a discounted price when they back the project. With a range of colours on offer, the Rocker Kinetic can match a range of styles and blend effortlessly into the daily activities of health-conscious individuals.
To find out more visit https://www.indiegogo.com/projects/rocker-kinetic-dynamic-exercise-module-fitness.
To view the launch video visit: https://www.youtube.com/watch?v=yLPUPM5xSQg&t=13s
About
Rocker Kinetic is the innovative new footrest that combines comfort, wellbeing, and fun. Designed in conjunction with chiropractors, doctors, and specialist ergonomics, it's an effective portable gadget that fits effortlessly into healthier lifestyles during daily activities while causing minimal disruption.